By Linda Burum, Special to the Los Angeles Times.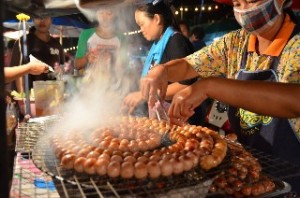 In English, seua rong hai means "it makes a tiger cry." The phrase is the sobriquet of a fiercely spicy dish from Isaan-Thailand's rural northeastern region. Seua rong hai typifies the bold, pungent flavors of Isaan regional cooking, which has gone from backwater survival fare In Thiland's poorest area to trend setting fare both in Bangkok and North America. Outside of Thailand itself, Southern California may be the only place with a collection of restaurants specializing in northeastern Thai dishes.
Isaan food is dramatically different from the palace-influenced, central-style cuisine most Americans know as Thai.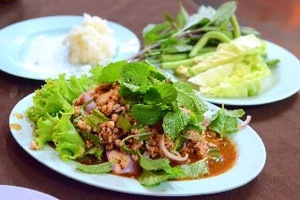 The familiar mee krob-stuffed, deep-fried chicken wings-or complex coconut-milk-based curries are far more elaborate than rustic, uncomplicated Isaan dishes.
Isaan cooks transform their limited range of ingredients into glorious fusions of taste and texture: Meats are simply charcoal-grilled-or even served raw-and accompanied by fiery dipping sauces. Or they are sliced and tossed with chile and lime into fresh herb-filled salads.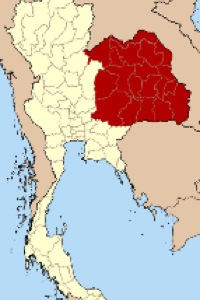 The people who first brought Isaan food to Bangkok were the northeastern rice farmers whose fortunes depend on the region's dusty soil and temperamental monsoon rains. Between the planting and harvest seasons, the farmers would come to the city to work as tuck tuck drivers (3-wheeled open taxis), domestics or some form of menial labor. Others set up shop as food vendors that catered, at first, to other workers from the region.
Gradually, certain side streets in Bangkok became known for the enticing smell of grilling kai yang-Isaan-style chicken-wafting from outdoor stalls. The stalls attracted college students, cabbies and anyone seeking a supremely tasty meal for small change. Now those students are Thai yuppies and they've brought this regional fare uptown. And here in Los Angeles, Isaan's popularity is growing by leaps and bounds.
In North America, a few Isaan dishes, such as larb and kai yang, have been popular for so long they appear alongside central-style dishes on mainstream Thai menus. But at the following restaurants, all owned by Isaan chefs or families, the Isaan selection goes well beyond a few popular items. Each establishment also offers the requisite sticky rice and an authentic array of side condiments and vegetables-the only proper way to eat Isaan.
Renu Nakorn, one of the first L.A. restaurants to offer Thailand's most exotic dishes. But when you are brought an enticing meal of seua rong hai (grilled steak cut into slices and served with a pungent tamarind-chile dipping sauce), sup nor mai (tart shredded bamboo salad), and 29 (a dish of minced, lightly cooked beef lavished with fresh mint and coriander), you'll know this place is "worth the drive." Sticky rice arrives in a classic Isaan-style kra-tip. In Thailand, these woven baskets on small legs transport atypical meal of rice, salted fish and a spicy sauce to the fields. Farmers gather the herbs accompanying these meals right from their fields and along the river banks.
One of my favorite items at Renu Nakorn is the dried and deep-fried beef known as neua dad deal. Drying intensifies the beef's flavor; it is succulent and chewy yet much softer than jerky. With its peppery dipping sauce and accompanying greenery, neua dad deal exemplifies the finger-food style of the Thai East.
Most of the Isaan dishes are listed under the "Renu Nakorn Special" category. Others, which our waiter translated, are written in Thai on a small card attached to the menu. Of these, my hands-down favorite was adish called "koong ten." This version was a platter of barely grilled large shrimp with mint leaves, beautifully arranged over cabbage sliced as fine as thread. The shrimp were dressed with a garlicky lime dressing and sprinkled with roasted red chiles. In koong cha nam pla, the shrimp are served raw with a dipping sauce.
Renu Nakorn, 13041 E. Rosecrans Ave., Norwalk, (213) 921-2124.
In many northeastern provinces near the Lao border, the people are of Lao extraction and the region's language and food are strongly Lao-influenced. At Thai Nakorn, located at the edge of Knotts Berry Farm in Buena Park, this influence is particularly apparent. A good example is the gang rong pla bang, a hot and sour soup with whole catfish slices, sweet Asian pumpkin and oyster mushrooms. The dish, from the unskinned fish to the pungent tamarind leaves and large pieces of lemon grass stalk, might be a tad too native for some palates. On the other hand, a light-tart catfish larb-larb paduk-and barbecued beef tongue slices on a bed of salad called lin nam tok, should appeal to those looking for just a hint of adventure.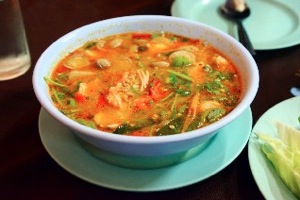 One of the best dishes here is the Isaan-style grilled sausage. Two fat links are sliced and accompanied by slivered ginger, roasted peanuts, shallots and whole chiles, along with cabbage leaves for wrapping the various tidbits. You eat your choice of these condiments with each sausage slice. The sausage is not on the printed menu, but written in Thai on a little chalkboard above the kitchen door, as are additional Isaan specialties. When we made it known that we wanted to try Isaan dishes, however, the owner was happy to help us translate and plan our menu. The standard larb dishes (chicken, beef or pork), the various grills with dipping sauces and salads are all available here. For dessert, we had a delectable, very eggy mung bean pudding (not Isaan style) that resembled a cross between custard and bread pudding. Thai Nakorn Restaurant, 8674 Stanton Ave., Buena Park, (714) 952-4954.
Neither Thai Villa's sign, "Thai and Chinese Food," nor its menu, with such very familiar offerings as mee krob, shrimp tempura and cashew chicken, inspire much curiosity. But keep reading and you'll find lots of Isaan dishes and sticky rice (it's called sweet rice on this menu) served in a kra-tip.
The restaurant is very accommodating: When my companion announced she couldn't eat food that was too spicy, the kitchen went out of its way to accommodate her taste. The larb kai (chicken larb) was quite satisfactory in its milder state, although I'd have prefered more heat. A wonderful, rich beefy soup (10) was brought to the table with a side dish of highly spiced lime juice. Normally these ingredients would be combined in the kitchen but Thai Villa's method allowed my guest and me to flavor each of our portions to our own tastes. The best dishes of the evening were the bamboo salad, a julienne of bamboo shoots served warm with the traditional chile-lime-roasted rice dressing and nam sod, a dish similar to pork larb but potently flavored with ginger. The menu also offers yam neua, a lime-dressed beef salad; like nam sod this is actually acentral-style dish that is often included on Isaan menus because of its similarity to the style. Thai Villa, 5921 South Street, Lakewood, (213) 920-3785 or 867-9118.
Duang Dara doesn't call itself an Isaan restaurant, although its owner, Penkha Boonrueng, or "Pennie," is from the region and can guide you through your menu selections. Duang Dara's menu is Thai Pan-regional. Among the usual Thai offerings, one finds northern and southern dishes infrequently seen in this country. All are superbly executed. Even though the sticky rice occasionally comes served on a plate rather than on the typical basket, the bold simplicity of Boonrueng's Isaan dishes make the restaurant a "must try" for lovers of Isaan food. Larb, which comes made either with chicken or beef or pork, is potent, yet its seasoning is so well balanced it doesn't bludgeon the senses. Boonrueng's neu nam tok, juicy grilled beef sliced and topped with the traditional lime-pepper rice mixture, is raised to the extraordinary with the brilliant addition of finely slivered, fresh tropical lime leaf. Som tam, the shredded papaya salad, may be ordered "Thai" style or Isaan style-an even spicier version spiked with chopped baby crab. I highly recommend the Thai barbecued beef (20). The phenomenal dipping sauce-a blend of fruity, tart tamarind, rich with dry-ground red chiles-is balanced with the slightest bit of sugar and does amazing things for grilled beef. Duang Dara, 8924 Bolsa Ave., Westminster, (714) 891-8775.
Illustration
PHOTO: Isaan in L.A.: Chicken and (sticky) rice, left; Plyor Everetts and Uraiwan Laohavichien,