By Linda Burum, Special to the Los Angeles Times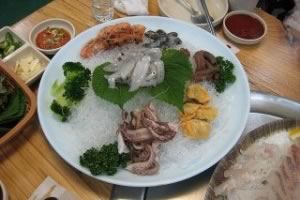 Koreatown's Odaesan shows what happens to sashimi outside of Japan — and it does it in a luxurious setting.

In the vast fish markets of Korea's teeming ports and strung along the beach areas of its long coasts, there are countless raw fish houses (hwe jip), charcoal grill carts and impromptu stands specializing in boiled cockles, spicy crab soup or whatever the season brings ashore.
Odaesan, a palatial new restaurant, brings the same bounty to Koreatown but in a far more luxurious setting than a hwe jip. Its downstairs dining room glows with polished marble and elegantly crafted woodwork; custom-painted designs grace the walls. Behind the sushi bar — an expanse of shimmering blond wood almost as long as a bowling alley — stands a display of wine and liquor for sale by the bottle.
At Odaesan, some of the seafood is so fresh it's still swimming when you order. In a glassed-in wet room behind sleek tanks of live lobsters, crabs, abalone and flatfish, a man in elbow-length rubber gloves, armed with an overhead spray hose, hunches over a stainless-steel sink and readies seafood for the tables.
One evening a friend reserved one of the many private rooms upstairs. We sat on the floor with our legs dangling into a space in the floor beneath the low table. A push of the service button summoned a waitress in hanbok, traditional Korean dress. She assured us that the $150 Odaesan special sashimi dinner (Koreans use the Japanese term) would satisfy the five of us for dinner. We couldn't have felt more pampered.
When the paneled door slid open again, the waitress returned to dole out a kaleidoscopic assortment of banchan (side dishes), including spicy octopus, mackerel slathered with a miso-like paste, marinated cucumber served on shrimp — and, of course, several varieties of kimchi.
The sashimi was an absolutely imposing sight. The centerpiece of the huge platter, one of those lobsters from the tanks, had the raw tail meat cut into translucent slices and arranged around the head and shell. A mosaic of raw sea dwellers surrounded the lobster: abalone, various clams, salmon, white snapper — 11 sorts of sashimi in all.
Alongside, in tiny dishes, an array of condiments included a small dish of sesame oil mixed with salt and black pepper — the classic dip for hamachi (yellowtail). But we had to ask for chojang, the delicious tart-sweet and spicy red sauce favored with octopus, squid and giant clam (all part of the sashimi platter). We also missed the lettuce leaves customarily served with Korean sashimi for wrapping together fish, garlic and other condiments. Even so the tray seemed opulent with its accents of boiled quail eggs, whole garlic cloves and sliced jalapenos — as well as a whole wooden box of fresh-shelled sea urchin.
Along with all this seafood came steamed savory egg custard and miso soup. The waitress, who had whisked away the lobster remains after we'd eaten the meat, later returned with a delicate lobster broth that included the claws and legs. And just to make sure we were perfectly satisfied, she brought another round of kimchi and bowls of rice.
Even Odaesan's less elaborate sashimi meals are meant for groups, but the menu doesn't specify how many people each will serve. Prices for these dinners vary from $30 to $120, so be sure to ask.
Combination sashimi dinners are the restaurant's best dining experience, and the prices make sense when the meals are shared family style.
People often combine the sashimi meals with other dishes too, maybe a steamed or grilled fish or one of the scorchingly spicy soups such as the cod roe specialty, al tchigae. Unless you're ordering live fish (such as the sometimes-available uni in the shell) the sushi bar is not extraordinary.
Your selection is a bit limited if you are a party of one or two. You can get hwe dup bap, a raw fish salad presented in a sink-sized porcelain bowl that involves layers of freshly diced tuna, yellowtail, salmon and crunchy roe surround by a salad served on rice. It's still a generous array, fine for one or two. The dressing is a sinister-looking hot sauce (fortunately, its bite is moderated by vinegar and sugar). A good bet for singles and couples who love fish roe is al bap, a sort of Asian caviar plate: a rainbow of variously colored roes arranged on rice.
Sushi and sashimi may be Japanese terms, but the Korean culture has given raw-seafood dining a very different personality. While Japanese sushi chefs arrange artful individual portions for each customer, eating sashimi Korean-style is a convivial group-participation sport. And Odaesan's posh setting is perfect for the game.
2889 W. Olympic Blvd., Los Angeles, (213) 383-9800