By Linda Burum, Special to the Los Angeles Times.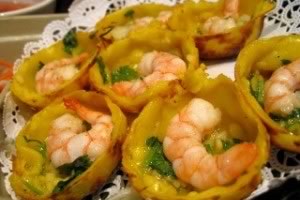 Vietnamese cafes are springing up in neighborhoods from Venice to Pasadena. They're as stylish and fun as the cuisine is fresh and flavorful.
For a moment the sharp fragrance of lemon grass merging with leafy aromatic greens transports me back to the humid heat and clamor of Saigon.

But the din I hear isn't the sound of a Saigon street. It's the clatter of an open kitchen over the hum of conversation at Gingergrass, the always mobbed Vietnamese cafe in Silver Lake.
Vietnamese food is hot.
Neighborhood cafes serving the cuisine are popping up from Venice to West L.A. to Pasadena. And people aren't coming to them for the flavorful dishes alone: The new restaurants are stylish scenes, astutely geared to the temperaments of their neighborhoods.
The gorgeous fragrance at Gingergrass comes from my salad: marinated, grilled flank steak arrayed on a tangy bed of pickled vegetables, perfumed with bunches of fresh herbs and a sprinkling of crunchy roasted peanuts.
Around me, everyone is devouring beautifully conceived plates of food: vast bowls of delicate noodles crowned with flowering basil tops and mint or chargrilled meats over hillocks of raw greens. Chef and co-owner Mako Antonishek is clearly cooking what Angelenos want to eat now.
With nearly half a million Vietnamese Americans living in California — the largest population outside that country itself — you'd think Vietnamese food would already be as common as tacos. But finding a Vietnamese restaurant meal has usually entailed a trek to Little Saigon or other specific ZIP Codes where restaurateurs survived best by catering to a built-in clientele.
Lately, though, a new generation of Vietnamese entrepreneurs has been changing the landscape. At the new Westside Pho 99 Noodle and Grill, the lure is the room as much as the food. The split-level dining room has a soaring multitiered ceiling, slate-like floors and copper-accented woodwork.
Gingergrass is all high ceilings, white walls and a wide expanse of glass; it has an artist's loft feel that mirrors Silver Lake tastes. At first the restaurant attracted customers who admired Antonishek when she cooked at the short-lived Le Colonial in West Hollywood. But now the place feels Eastside-chic through and through, from the smart-looking crowd to the dramatic cylindrical lamps. Most of Antonishek's dishes are traditional Vietnamese — shrimp rolled around sugarcane sticks, a sweet-tart jackfruit salad with pickled lotus roots — and they come artfully arranged on square white ceramic plates.
Puzzling plates
You have to wonder why this cuisine has taken so long to merge into the mainstream. "Too complex to eat," says Kayla Nguyen-Corey, who owns the new Indochine in Pasadena.
Indeed, many diners new to Vietnamese food puzzle over what to do with the rau son — the plate of herbs, chiles, limes, lettuce and bean sprouts that accompany many dishes. And what are the ubiquitous chile sauce, nuoc mam (fish sauce), hoisin and soy sauce for?
Take the rau son at Indochine, for example. As at all the other new-wave Vietnamese cafes, the herb plate accompanies steamy bowls of pho, the ethereally flavored beef and rice-noodle soup that is always a dual creation between the eater and the chef. On the one hand its deliciousness relies on the broth's light star anise infused flavor, but people personalize their bowls, adding squirts of lime juice and shakes of chile sauce, handfuls of crisp bean sprouts and mint, cilantro and basil (which should be Asian basil, though many restaurants substitute Italian basil), or even raw, sliced jalapenos
The rau son lends the same dimension to all sorts of dishes, including banh xeo; Indochine serves a splendid rendition. The crisp canary-yellow rice crepe, folded over shrimp, shreds of broiled pork and vegetables looks remarkably like a well-cooked omelet. Some dig in with a fork or chopsticks; others, schooled in the traditions of banh xeo consumption, fold crepe chunks and fresh herbs in lettuce and dip the bundle in the accompanying garlic-infused nuoc cham, the clear sweet-tart sauce that's indispensable at every meal.
At Le Saigon in West Los Angeles, a number of dishes are served with rice paper to wrap them in. When this spot opened five years ago, the menu was limited to pho, rice and noodle plates, and appetizer rolls. Le Saigon's servers patiently tutored a growing clientele, dispensing advice on dealing with the cuisine's unique at-table assembly. They explained how to garnish the pho or wrap deep-fried imperial rolls in swatches of lettuce with a bit of basil. Eventually the owner, Minh Le, found an ingenious way to serve the frustratingly sticky rice paper. For easy separation, she applied a pink plastic divider to each sheet. Now once-timid customers gleefully wrap nem nuong — sizzling, garlicky pork meatballs — with fresh greenery in the rice paper.
n Venice, Heip Le was convinced the fragrant noodle soups and spice-infused grilled dishes she grew up eating would appeal to the people working late in artist lofts and film production houses. So last October she turned a former falafel stand into the charming China Beach Bistro. She enlisted her mother, a veteran of Vietnamese restaurants in Little Saigon in Albany, Calif. (near Oakland), to help set up the kitchen and refine recipes.
Her minuscule place, a little funky but stylish all the same, with lime green walls and a glassed-in patio, now serves as the de facto canteen for the neighborhood. A constant flow of customers orders charcoally grilled shrimp over fine rice noodles or steamy bowls of chicken-noodle pho. Le's com dac biet, house special rice plate, is the Vietnamese equivalent of a bento. Served over a mound of rice are moist roast chicken scented with star anise, grilled shrimp skewered lollipop-style and a mound of garlic-and-soy-infused beef. For authentic Vietnamese cafe filtre, she imports true Vietnamese roast coffee beans. Dripped directly into a cup, it is potent taken plain; softened with condensed milk, it makes a wonderfully creamy Vietnamese iced coffee.
But the "too complex to eat" explanation can't be the only reason Vietnamese food has taken so long to enter the mainstream. In New York City, for instance, chic little Vietnamese restaurants started springing up all over the city a decade ago, and the food's just as complicated there as it is here.
Another explanation would be geographical. Although in Manhattan, New Yorkers had been exposed to Vietnamese restaurants right in Chinatown, which is easily accessible to Manhattanites, in Southern California, Vietnamese food was sequestered in several Vietnamese enclaves — Westminster's Little Saigon and Vietnamese communities in the San Gabriel and San Fernando valleys. Unless you lived nearby, or had a reason to drive there, you just weren't exposed to it.
Here in Southern California, Vietnamese restaurateurs have done so well in the enclaves that there's been little impetus for them to branch out. That's been good for the cuisine: Because the Vietnamese customer base is so large, the neighborhood restaurants have been able to offer specialized and authentic dishes, such as bahn hoi — flat mat-like swirls of thread-fine rice vermicelli that function as edible wrappers to fold around shreds of barbecued meat, minced shrimp or egg rolls along with fresh leafy herbs. But lately, they see more opportunity, and diners outside of those enclaves benefit.
At Saigon Dish, in Lawndale near Manhattan Beach, owner John Nguyen's banh hoi plates duplicate those served in Vietnamese neighborhoods. As you munch through the layers you get a different taste in every bite. Among Nguyen's soups, the spicy central-style pork-hock soup, bun bo Hue, and Chiu Chao-style clear rice noodle soup Hu Tieu, introduce ethnic variety within Vietnamese cuisine.
Nguyen, a child of the South Bay, admits to lightening up on the fish sauce in his pho. "I grew up with American taste buds and this is what my friends and I like," he says. But for anyone wishing more intensity, bottles of fish sauce sit on every table.
Multinational patrons
Opening a Vietnamese restaurant on a street filled with Indian grocers and sari shops may seem an odd idea, but Linda Tran knew it would work. She saw an increasingly varied patronage at her family's Little Saigon place, Thien Thanh, and "too much competition in that area." She chose to open her Pho Pioneer on the Little India strip of Pioneer Boulevard in Artesia. The small city is as multinational as Coca-Cola and among the most linguistically varied in the nation.
On Pho Pioneer's colored photo menu — the lingua franca of restaurateurs aiming to introduce their food culture — the No. 18 Pioneer rice special is an amazing ambassador for the savory-sweet flavors of Vietnamese cooking. The combination of crispy minced shrimp cake, slabs of grilled marinated pork, delicate steamed egg loaf and a salad garnish has customers returning again and again. The restaurant's long pho list includes a seafood version, a shrimp version, a vegetarian version and one with chicken breast strips — one for every taste. And to keep pace with current fashion in drinks, Tran offers traditional Vietnamese smoothies with boba tapioca pearls added.
In Little Tokyo West on Sawtelle, karaoke bars and anime stores lure college students and transpacific hipsters whose traditional antidote for a night of social drinking is a soothing bowl of soup noodles. Hanoi Cafe — an au courant riff on a rustic pho noodle house — is their hangout, and it's open late. The stark, high-ceilinged space whose rough planked tables are accented with heavy brass fittings has taken its place among the street's udon and ramen shops. "Pho is very 'in' throughout the Asian community right now," says owner Ryu Hamada, who also owns the three pan-Asian Zen Grills. "Look at all the Koreanized pho shops in K-town."
Actually, it looks like pho is "in" all over town.
China Beach Bistro. This tiny, stylish indoor-outdoor cafe serves home-style dishes such as com dac biet — roast chicken scented with star anise, grilled shrimp and garlic-and-soy- infused beef served over rice. 2024 Pacific Ave., Venice; (310) 823-4646.
Gingergrass. A smartly styled room where a casual, knowing crowd enjoys artfully presented food. 2396 Glendale Blvd., Silver Lake; (323) 644-1600.
Hanoi Cafe. This Little Tokyo West spot draws a light night crowd for pho and noodle "salads." 2002 Sawtelle Blvd., West Los Angeles; (310) 477-4885.
Indochine. Casual and chic, this cafe woos an eclectic Pasadena clientele. Don't miss the banh xeo. 950 E. Colorado Blvd., No. 204, Pasadena; (626) 584-7118.
Le Saigon. This modest cafe offers a short menu of traditional fare. Try the nem nuong: sizzling, garlicky pork meatballs that get wrapped in rice paper. 11611 Santa Monica Blvd., West Los Angeles; (310) 312-2929.
Little Saigon Noodle Restaurant. The simple, polished room makes the standard noodle cafe menu seem "now." 17801 S. Pioneer Blvd., Suite L, Artesia; (562) 467-8013.
Pho Cafe. Sake and beer are offered with a basic pho and appetizer menu in an industrial-chic loft-style space. 2841 W. Sunset Blvd., Silver Lake; (213) 413-0888.
Pho 99. A branch of the well-known noodle soup chain sports a new-generation look and much more than pho. Grilled dishes are terrific here. 11819 Wilshire Blvd., No. 106B, West Los Angeles; (310) 312-7881.
Pho Pioneer. A commodious dining room and well-rounded modern menu are the draw. 17701 Pioneer Blvd., Artesia; (562) 809-9250.
Saigon Dish. This bright, airy cafe's extensive menu includes regional favorites geared to contemporary palates, plus a selection of vegetarian dishes. 15725 Hawthorne Blvd., No. 108, Lawndale; (310) 676-8778.