Chef-owner Tony Hyde adds his own inventive twists to Caribbean-style cooking at Sattdown Grill.
By Linda Burum, Special to the Los Angeles Times.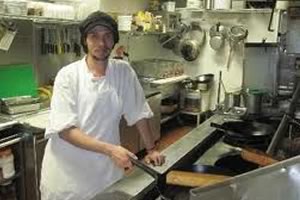 The menu at Sattdown Jamaican Grill is instantly intriguing. Scanning its pages past the salmon with garlic-orange zest crust and the shrimp seared in olive oil with jerk seasoning, to the vegetarian curry roti, you quickly realize, we're not in Kingston anymore.

But the soul and spice of Jamaica still shapes chef-owner Tony Hyde's cooking at this tiny gem in Studio City. He weaves the Caribbean's brilliant fusion of European, African and East Indian tastes along with his own inventive twists into an imaginative style he likes to call "my new vibration of Jamaican flavor." His guava-sauced chicken chunks with a blast of ginger and an herb-y under-note of Jamaican thyme fills your mouth with unrelenting waves of sweet-salty heat.
Hyde has owned restaurants in New York and West Palm Beach, Fla., and wants diners to love the flavors of his homeland. To wit, his website's hokey slogan in ersatz Jamaican patois: "Once you sattdown U B back." But his six years cooking for Whole Foods Market — where he also created recipes — may be what has set him on his current path.
His pure vegetable soups, the roasted beet and yam purée with a hint of nutmeg, the curried garbanzo bean and the creamy nondairy spinach-okra, might best display his evolving style. The entrees aren't intricate or fancy (they average $11); for the most part, he does casual à la minute cooking.
Sattdown hasn't entirely eliminated comfort food favorites from its menu. Purists and the local Ziggy Marley acolytes who drift in from neighboring music rehearsal studios want the magnificently stuffed savory turnovers that Jamaicans call patties washed down with a tall glass of house-made ginger sorrel juice. The patties' improbably tender crusts are loaded with fillings that go beyond the familiar chicken and pepper-doused minced beef to include a crab-shrimp blend and a vegetarian filling. Sattdown's jerk chicken — dry-rubbed, baked and still juicy — rests in a little puddle of smoldering dark chile-tinged sauce.
Hyde can't resist improvising with the braised oxtail. His long-baked version, brushed with a fruity-spicy house-made sauce, has a deep beefy flavor and meat that collapses under the dull edge of a fork.
Hyde and his wife, Nini — who you'll often see serving in the nine-table dining room — opened Sattdown last year, taking over the space from the sporadically open Jamaican restaurant Friedel. Nearly everything has changed. But they've kept the charmingly campy Caribbean ambience evoked by a huge tropical aquarium and a turquoise color trompe l'oeil cloud-dotted sky that seems to float overhead.
Between putting out customers' orders to the beat of reggae blasting from a sound system, Hyde works on perfecting his new roasted vegetable plates seasoned Jamaican-style. He's already got a fun lineup of burgers (chicken, salmon, vegetarian), each with its own flavorings. A beef version topped with soft, almost caramelized onions gets its ultra flavor jolt from a sheen of Jamaica-fied "ketchup," a fresh pepper and fruit-paste blend that includes Jamaican Scotch bonnets.
Hyde kind of views himself as a missionary for popularizing Jamaican flavors, a vision that jibes with the multi-culti zeitgeist going on with American chefs right now. He's probably the right guy to carry it off.
11320 Ventura Blvd., Studio City; (818) 766-3696.