Cenaduria La Casita Mexicana serves a changing menu that seeks to sustain foods threatened by globalization
By Linda Burum, Special to the Los Angeles Times.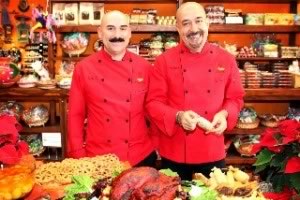 My squash blossom soup is afloat with translucent yellow flowers and Ping-Pong-ball-sized squash, freshly picked from a community- sponsored garden south of downtown.
The owners of La Casita Mexicana visit that plot at 42nd and Alameda streets almost daily, picking up a variety of vegetables, such as huauzontle, a broccoli-like wild vegetable related to quinoa, and romerito, a stringy, spinach-like green. The unique harvest allows Jaime Martin Del Campo and Ramiro Arvizu to cook a personal version of cocina en temporada–the seasonal garden- to-table Mexican food they grew up eating in Jalisco.

Three years ago, Martin Del Campo and Arvizu quit their jobs in airline sales and transformed a drab storefront in Bell into a space of sun-drenched color with fresh flowers on every table. Though they called it a cenaduria, or dinner house, it actually serves throughout the day.
It wasn't long before they found themselves "discovered." Univision and Telemundo asked them to demonstrate recipes on television magazine shows and eventually to cater company parties. They now count the Museum of Latin American Art and the Iturralde Gallery of Latin art as catering customers.
A few weeks ago I walked through La Casita's doors into a cheerful world where customers are treated like invited guests and the dishes, although nothing more than traditional home-style food, tempt beyond measure.
Everything about the cooking is disciplined and refined, and every dish is made from scratch: The hot sauce, simply a thin puree of fresh chiles, sings of pure fruit flavor with none of the vinegar taste of a bottled hot sauce. Even the raspadas (snow cones) are topped with sweetened fruit purees, rather than commercial syrups. Still, dinners here usually run about $9.
Martin Del Campo and Arvizu patterned La Casita after fondas, the restaurants run by cooks in private homes. Fondas originated in smaller towns, and their customers rarely expect to consult a written menu. Instead, there would be a dialogue on what was best at the market that day and what the cook has made with it.
Similarly, although La Casita does post a permanent menu of breakfast items and wonderful antojitos (don't miss the quesadillas with rajas or pumpkin flowers), the surest way to discover the day's best offerings is a chat with your waiter. You may find an intricate mole negro or chicken pipian with a rich, mildly hot sauce of ground peanuts and pumpkin seeds.
Wednesdays are pozole days, and La Casita's three versions of that robust soup epitomize its well-bred cooking. The red and green pozole swim with large chunks of lean pork or chicken, and the seafood version holds clams and baby squid smaller than a thumbnail. The pozoles are based on dried purple corn kernels, which open like flowers in cooking and taste like earthy popcorn.
Ask about the icy aguas frescas. With luck you may hit a day when there's cactus fruit juice or limeade speckled with soft chia seeds, said to aid digestion.
The concept of cocina en temporada includes festival foods, so around Christmas, they roast turkeys in the complex, rustic spice paste adobo. On Independence Eve (Sept. 15), there are mild chiles en nogada, stuffed with meat and fruit and blanketed in creamy ground nut sauce. Dishes from la cocina de cuaresma–a repertoire of Mexican meatless dishes–are served on Fridays throughout the year as well as during Lent.
Part of the restaurant's "mission" is to keep alive foods that could easily disappear in the tumult of globalization. Arvizu likes to describe La Casita Mexicana's menu as "a journey through a traditional year in Mexico."
La Casita Mexicana, 4030 E. Gage Ave., Bell. (323) 773- 1898. Open 8 a.m. to 11 p.m. daily. No alcohol. Street parking; small lot behind the restaurant. Cash and ATM cards. Dinner for two, $15 to $25.
What to Get: quesadillas, mole negro, chicken pipian, pozole, cactus agua fresca.