By Linda Burum | Special to the Los Angeles Times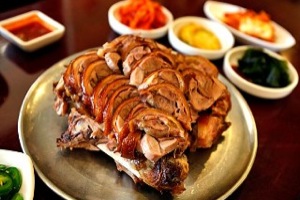 Now that thrill-seeking diners have advanced beyond pork belly and crispy pig's ears and are going hog wild over snout-to-tail pork events, it may be the perfect time to check out Koreatown's best jokbal. The braised pork foot and shank, Korea's answer to charcuterie, often shows up boned and sliced as anju — the snacks served in pubs and other hangouts for hard-drinking night crawlers. But few versions will thrill the souls of pork junkies as completely as jokbal from the homespun Jangchung-Dong Wong Jokbal on Western Avenue.
A satellite of a renowned braised pork foot specialty restaurant in Seoul, the ultra-obscure Koreatown spot is a nostalgic link to the steamy hole-in-the-wall jokbal joints of the motherland. Its name means Jokbal King of the Jangchung-Dong district. That enclave, as any Seoul denizen will tell you, is a paradise for jokbal buffs. There, dozens and dozens of chockablock shops boast names like Fat Grandma's Jokbal House or the Original Grandma's Jokbal (pronounced choke-bahl). Each claims to have its own "secret" braising sauce.
Although Jangchung-Dong Wong Jokbal's owner, Kyung Soon Lee, now in her 80s, still presides over her decades-old restaurant in South Korea, about five years ago, she helped family members open a Koreatown branch. Bringing with her a coveted sample of her shop's braising liquid, she trained her nephew-in-law, John Yang, in the jokbal fundamentals.
The modest place, in the farthest corner of a drab mall, is nearly masked by the divey-looking Q nightclub on one side and a faded Korean pho house on the other. The dining room walls are decorated with soju beverage posters. Stacks of Styrofoam containers piled high behind the cash register attest to the shop's substantial take-out business.
Jokbal from the lunch menu will run you $9.99. The serving seems absolutely dainty on its 12-inch oval platter as compared with the sharable $24.99 dinner version, which has a serving plate the size of a medium pizza piled as high as a Thanksgiving turkey with meat slices carefully laid over the bones, as is traditional. Jokbal connoisseurs love the juicy cartilaginous chunks that are as much about texture as flavor.
But the muscle meat on pork shank and foot, as lovers of French pied de cochon, British pork trotters or German schweinshaxe all know, is the most exercised and thus the most richly flavored of the animal. Swirls of dense flesh ribboned with soft braised-to-tenderness gelatinous streaks give the meat its unique texture. Slices near the foot are very lean, whereas those from farther further up the leg are encircled with a creamy ribbon of fat and a yielding sheath of bronzed skin that melts into the meat with every bite
Alongside, a fiery, salty shrimp-based dipping sauce gives every piece added zing. You eat slices with sauce or wrapped in the accompanying lettuce with a chunk of raw garlic clove and a jalapeño slice.
Few customers eat jokbal by itself. Of course, the regulation banchan — here, nicely made but quite standard spiced vegetables — come with any meal. An order of chewy buckwheat-yam noodles tossed salad-style with perilla leaves and sweet-spicy chile make a lip-smackingly delicious partner.
An even spicier celebration of porkiness, mae-un jokbal bokkeum, listed on the English dinner menu as pan-fried spicy pork hock, involves a trencherman's portion of jokbal. The slices are tossed with thick glossy garlic chunks, jalapeno and red-tinged perilla leaves, whose slight bitterness accents the meat the way Angostura bitters enhance a Manhattan cocktail.
A notch down on the heat scale, marinated grilled pork, or doeji joomuluk ssambap, arrives sizzling over a bed of onions on a cast-iron plate. Another wrap, its slight caramelized smokiness against the cool lettuce smeared with lightly fermented bean paste, makes for the most magical Korean burrito imaginable.
Not into pork foot? Pork belly bossam is just as much fun to eat. You top the small pork slabs with a salad-like mound of chile-drenched julienne radish tossed with baby oysters enfolding them in sweet softened nappa cabbage leaves. It's a simplified version of the classic gool bossam that's served with large shelled oysters.
Besides soju and beer, the menu lists three brands of bokbunja, the black raspberry wine that's a traditional jokbal go-with. Try one. They're not Manischewitz-sugary, and their subtle sweetness turns pork foot into a transcendent experience.
Located at –  425 S. Western Ave., Suite E, Los Angeles; (213) 386-3535.