By Linda Burum | Special to the Los Angeles Times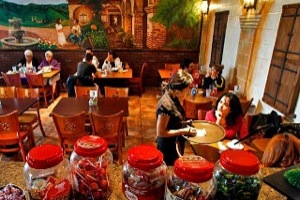 Peek inside Antojitos Latinos, a tiny Colombian deli and market in Van Nuys, and there's little inkling of its status as a treasured comfort food institution. Over the last 16 years, under owner Patricia Blancheteau's guidance, this tidy but plain shop has blossomed into the go-to Valley spot for traditional baked goods, steamy soups crowded with meats and vegetables, and home-style bargain lunches.
Longtime customers mostly phone in orders for take-away, but diners can also try their luck at landing one of the tiny tables next to the shop's tightly packed grocery shelves.
Now, though, many of the deli's loyalists can often be found in a restaurant about a mile up the street, lazing away an afternoon over three-course Colombian-style lunches or drinking wine with their dinners. Because after years of selling cheese rolls and meat-stuffed empanadas by the tray or packed up in paper bags, Blancheteau has finally been able to realize her longtime dream. In the space that once housed a medical clinic, she has built an entirely new restaurant, El Mesόn Criollo.
On each polished wood table, a rustic bowl of house-made green chile sauce sets the tone for cooking that's always thoughtfully conceived and freshly prepared.
All the traditional bakery goods that have made a name for Antojitos Latinos deli are here: Pan de bono, the ruthlessly delicious bagel-shaped roll, gets its chewy texture and rich flavor from cassava flour and the queso fresco cheese mixed into its dough. Even more decadent, the dinner roll-likealmojábana boasts a center of molten cheese, while a sweet version, pan dulce, holds a guava filling. And no one will want to miss the doughnut-like buñuelos. Similar to Portuguesemalasadas, their corn flour and salty aged cheese dough begets a melt-on-the-tongue airiness.
A small-plates gastropub-style meal could easily be assembled from any combination of antojitos with the freshly made soup of the day. Ideal candidates might bepapas chorreadas with their delicate cheese sauce, or corn-crusted empanadas de carne, eggshell-thin-crusted turnovers stuffed with juicy seasoned shredded beef.
Then there's the pizza-like patacon pisao, whose tropical "crust" is a whole lengthwise-sliced and flattened green plantain that's deep-fried. Topping choices include beef or chicken braised with onions and tomatoes or with seasoned vegetables. With these, regulars love to order a batido, the Colombian milkshake or ice-blended juice made from imported tropical fruit purées such as guanábana, guayabaor lulo (a.k.a. naranjilla), a mini tomato-like fruit.
Colombian food can be meat-intensive, and El Mesόn Criollo doesn't disappoint. Vast parrillada plates come heaped with pork chops, fried chicharrón, ribs, carne asada, chicken legs, blood sausages, the expected plantains, beans, rice and the ever-present cornmeal flatbread, arepa.
Bandeja paisa, the fare of Andean farm laborers, carries out the same theme, featuring a towering strip of deep-fried pork skin scored to open like a fan over a slab of carne asada, an avocado chunk, sausage, fluffy rice, beans and plantain under a runny egg yolk. Or, you can get something as simple as a mustard-marinated grilled chicken breast with a salad and plantain or rice.
But it's with the sancochos that this kitchen displays its finesse. The rustic, tummy-warming soupy meals in a bowl always include an ample portion of meat on the bone, along with starchy chunks of green plantain, potato and yucca. El Mesόn Criollo splashes in plenty of fresh parsley to brighten the flavor. The sancocho de cola with a fist-size segment of beef tail is the classic, and it's served every day. Weekends bring sancocho de pescado and sancocho de gallina, each with its own richly flavored corresponding broth. For its gallina, the restaurant insists on using true hens rather than younger pollos. The result is a deep poultry flavor that only a mature bird can yield.
15713 Vanowen St., Van Nuys, (818) 904-1099