By Linda Burum, Special to the Los Angeles Times.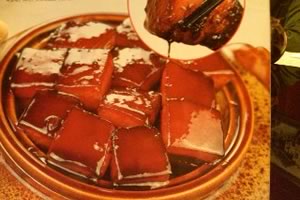 But today a Shanghainese expat can quash nostalgia by digging into a steamer full of juicy dumplings at Mei Long Village in San Gabriel or by gathering with family and friends around a hotpot of crab roe-stuffed meatball soup at Earthen Restaurant in Hacienda Heights.

Classic comfort foods like red-cooked pork and drunken chicken rule in Southern California. But as Shanghai once again gains recognition as a food mecca, our local Shanghainese restaurants are growing in number and quality.
After several visits to any of these restaurants you begin to see the surprising breadth and variety of Shanghai's cooking, how it differs from the more familiar Cantonese style and why, with its many outside influences, it is the most representative of China's food as a whole.
Refined ingredients
Shanghai's cuisine is an inheritance, gathered over many centuries from the surrounding Yangtze cities that have been at various times seats of government, strongholds of commerce and havens for aristocrats from the north as well as a wealthy mercantile class. For centuries, these cities were centers of culinary innovation. Suzhou, for example, built a reputation for exquisitely made pastries that were the forerunners of modern Shanghai-style dim sum.
In Hangzhou, the elite members of society during the Southern Song dynasty (1127-1279) dined at restaurants whose menus offered hundreds of beautifully crafted, often intricate dishes that some speculate has led to Shanghai's tradition of offering many appetizers.
As Shanghai grew from a small port into an international trade center, its cooks adopted and adapted elaborate ideas from the area's wealthiest cities. Even today, Shanghai menus offer the famous spareribs of Wuxi, fish of Hangzhou and braised meat balls of Yangzhou, among other dishes named for their places of origin.
In historic times, Shanghai's legions of gastronomes loved nothing better than to track down the most refined ingredients. Outings to small nearby towns that, like Tuscany or Burgundy, had developed reputations for local specialties, were a popular pastime. The famed Shaoxing wine, the nutty Zhenjiang (Chinkiang) black vinegar and the sweet-salty Jinhua ham are essential to Shanghainese cooking today.
So when most gourmands talk about Shanghai-style cuisine, it's understood to mean food from the surrounding region, especially the provinces of Jiangsu to the north and Zhejiang to the south.
The style that seems to define Shanghai cooking for many is the iconic "red-cooking" of Jiangsu. Its sweet-salty braising liquid made of soy sauce, Chinese wine, a touch of rock sugar and often other seasonings, is spectacularly unique in the way its syrupy meatiness captivates the palate. Almost every Shanghai-style restaurant in the Los Angeles area serves several red-cooked specialties, including the moist, unctuous braised pork "rump" (frequently mistranslated as "pump") and Wuxi pork ribs tinged with star anise and orange peel.
On the lighter side
Locals will tell you, though, that they appreciate the light fresh tastes of Zhenjiang dishes that emphasize the flavors of a few ingredients. A Chinese adage exalts the cuisine of Zhenjiang, where "the sauce is white and the soup is so clear you can see the bottom of the bowl."
The marvelous shrimp sauteed with tea leaves at Chang's Garden, in Arcadia, with a faint bitterness of tea balancing the salty-sweetness of shrimp, is one such creation. At Jin Jian (also known as J&J) in San Gabriel, gluten puffs afloat in a clear broth with wisps of julienne pork and clear noodles is another.
A few Sichuan or Hunan dishes also pop up on most Shanghainese restaurant menus. These are milder versions than the originals, not because they've been Americanized, but because they worked their way into Shanghai's mainstream after immigrants from western China introduced chile-spiced foods.
With its complex network of waterways, Shanghai celebrates crabs, fish and seafood of all sorts at the table.
The Shanghainese are passionate lovers of eel, and it's featured at Los Angeles restaurants in many guises, including eel stew with chestnuts at Green Village in San Gabriel, sauteed eel with caramelized whole garlic cloves at Wok and Noodle in Alhambra, and stunning pencil-thin crunchy fried eels with shrimp at Giang Nan in Monterey Park.
The last dish comes to the table looking like a plate of skinny French fries. A subtle sweetness in the coating is reminiscent of Thai mee krob noodles, but better.
Tofu is transformed into the wildest variety of tastes and textures imaginable – as if it were the featured ingredient in an Iron Chef cook-off. Tofu skins, both fresh and dried, are used as wrappers, pastry fillings, as a stir-fried vegetable and to make multilayered mock duck. Soft or pressed tofu may be stuffed, put into soups, hot pots, stir fries or crumbled for fillings.
A strong tradition of Buddhism has led to a complex and elegant vegetarian strain in Shanghainese cuisine. Even Chinese who aren't strictly religious may practice "twice-a-month Buddhism," eating vegetarian meals on the first and 15th day of the lunar month.
Firm pressed tofu cut into what looks like noodles is served in a light broth with julienne poached pork and flecks of the Shanghainese green chi tsai. San Gabriel's Shanghai Kitchen wraps fragile sheets of fresh tofu spring-roll style around a filling of crumbled tofu, meat and minced greens, then poaches the rolls in a delicate vegetable broth. Wang Jia, in San Gabriel, serves several soups with bow knots made from tofu sheets.
At several places vegetarian "sparrow rolls" are fashioned by wrapping braised tofu sheets around slivered dried bamboo shoots, black mushrooms and pressed tofu and serving them under a glaze of mellow brown sauce. Mandarin Chateau in Chinatown offers up kau-fu (also known as seitan) braised in a red-cooked style.
In the mid-19th century, when European nations imposed themselves on Shanghai in the name of free commerce, Western foods became abundant there, but there was rarely any resulting influence on the traditional Chinese cooking.
It's not surprising. With a repertoire culled from hundreds of years of inventive cooking, an abundant supply of local ingredients and a tradition of superlative artisanal condiments, cooks had all they needed. Food is one of the pleasures that gave Shanghai the nickname "Heaven on Earth."
SHANGHAI RESTAURANTS – The best of Shanghai around town
SOMETIMES you just want a comforting bowl of noodles; other times you're up for discovering why yellowfish fried with river moss has such a devoted following. At these Shanghainese restaurants, the L.A. area's best, you can satisfy both sorts of hunger as you explore the wide range of Shanghai's culinary repertoire.
Chang's Garden – 627 Duarte Road (at Baldwin Avenue), Arcadia; (626) 445-0707
Earthen Restaurant – 1639 S. Azusa Ave. Hacianda Heights, (626) 964-1570
Emperor Noodles, 800 W Las Tunas Drive, San Gabriel,  91775 (626) 281-2777
Giang Nan – 306 N. Garfield Ave., No. A-12, Monterey Park; (626) 573-3421
Lake Spring Restaurant, 219 E Garvey Ave, Monterey Park, 91755, (626) 280-3571
Mama's Lu Dumpling House, 153 E Garvey Ave, Monterey Park, 91755, (626) 307-5700
Southern Minitown, 833 W. Las Tunas Drive, San Gabriel, 91776, (626) 289-6578
Supreme Dragon. China's Grand Canal – 18406 Colima Road, Nos. E and F, Rowland Heights; (626) 810-0396, (626) 810-0356.
Wang Jia – 56 S. San Gabriel Blvd., San Gabriel; (626) 291-2233.
NEW KID ON THE BLOCK
Shanghai #1 Seafood Restaurant serves Hong Kong Syle dim sum early in the day and Shanghai style fare for dinner. Well made as this food is, this place is not 100% Shanghai style—except for the fact that Hong Kong style food is popular in that city.                       250 W. Valley Blvd., San Gabriel, (626) 282-1777.