The lively Vietnamese dining scene is taking a chic step forward.
By Linda Burum, Special to the Los Angeles Times.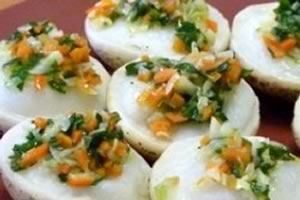 Many of the Vietnamese restaurants that have opened recently in Westminster and surrounding communities seem more connected to today's world than to the past. For example, Grand Com Ga Hai Nam in Garden Grove, a classy boite specializing in chicken dishes, uses only free-range birds. Fountain Valley's Aysya promises fusion food and Le V, in the same town, boasts a wall of wines that bisects its bistro-Moderne dining room.
These trend-conscious ventures resemble the old-fashioned minimalist pho shops and sandwich joints of the immigrant community's early years about as much as Wolfgang Puck's edgy new Red Seven resembles Musso & Frank Grill.
"People's expectations are different now," says Cecilia Le, a former financial analyst who owns 6-month-old Le V Cuisine. Her customers tend to be business professionals who enjoy wines with her menu of Vietnamese and fusion dishes and shareable small plates such as small spring lamb chops arranged on blue cheese-spiked potato "fondue" or salmon carpaccio sprinkled with crispy capers and chives. They're not averse to culinary experimentation, Le says.
It's become easier, bit by bit, for Vietnamese restaurateurs to strike a balance between pleasing traditionalists and courting a growing multicultural audience.
It's not always about getting fancier. Attempts to reach out to a crossover market can be as subtle as accepting credit cards or creating a name with a hint of familiarity: Instead of such Vietnamese appellations as Banh Mi & Che, you find Baguette Planet, Pho Republic Noodles and Grill, Pholicious or Rockin Crawfish.
Contemporary chic
Quan Hop and its parent restaurant, Quan Hy, one of Little Saigon's breakout restaurants, was a revelation with its professionally designed decor and attentive service. Family spokesman Bon Ton says he wanted to feel proud when introducing his mother's refined, central-style Vietnamese dishes to American friends.
Sure enough, Quan Hop, with a similar architect-designed, vaguely earthy look, attracts a diverse crowd. The place sparkles, and the flavors of its pan-regional food create new devotees of the cuisine every day.
What propels restaurateurs into such a challenging profession when, 30 years after the postwar wave of immigration, many other business opportunities exist? Love for the cuisine, several owners said in interviews, and an almost-missionary zeal for showing off its stunning virtues.
Several restaurateurs share the perception that restaurant-goers will support ambitious, pricier places in Little Saigon. In 2006 the Dang family, which has had great success with its casual cafe, Brodard Nem Nuong, went for the big time, opening Brodard Chateau, a beautifully appointed, bi-level, 8,000-square-foot restaurant with a full bar, fireplace and Euro-Asian menu.
The family's trademark, stuffed rice-paper rolls (cuon) from the cafe are on the menu here. But there are also handsome meal-sized salads and daily specials that include rice paper-wrapped soft shell crab and braised chicken, coq au vin style.
Even more up-market, on the outskirts of Little Saigon, in a sleek contemporary wood-lined pair of dining rooms, is 2-year-old S Vietnamese Fine Dining. Chef-owner Stephanie Dinh prepares traditional Vietnamese items such as northern-style deep-fried sweet potato cake studded with shrimp, as well as dishes with a more Euro-Asian bent, for example, lemon grass-encrusted lamb chop served. So the hottest new area is south of Bolsa and along Brookhurst through Westminster and Fountain Valley all the way to the freeway.
Crossover style
You can barely detect the skeleton of a former Coco's coffee shop beneath the opulently revised restaurant Aysya on Brookhurst in Fountain Valley. Low light from paper lanterns, a long hand-polished eating bar, big cherry-wood tables and intimate nooks set the stage for a menu of dishes based on many far-flung cuisines: Thai curries, Vietnamese standards, a bit of Chinese, a hint of Indonesian and French bistro favorites such as steak au poivre and frog legs in butter sauce.
A few dishes are culinary blends: The spicy, soft-shell crab has no precise traceable heritage nor does the semiripe, shredded mango salad with meaty shrimp charred from the grill. Ambitiously conceived, Aysya's kitchen turns out modestly priced, familiar pan-Asian selections, inventive Euro-Asian plates and a few international standards such as grilled rib-eye steak.
When asked why this kind of restaurant now, co-owner Vinh Buu explained: "I love food, all kinds of food, not only Vietnamese — and many  people I know feel the same."
Clearly, he has his finger on Little Saigon's gustatory pulse because there has been an increasing influx of Thai and Japanese restaurants along with a quirky fad for Louisiana-style crayfish.
For Kim Ta, owner of Zon Baguettes, it was the clientele's diversity at her former Tustin pho restaurant that inspired her to go international with a Vietnamese sandwich shop. In addition to well-filled banh mi sandwiches of mixed Asian cold cuts or grilled pork on crisp-crusted house bread she also gives the medium an international twist. Denver omelet-filled breakfast baguettes or carne asada smothered in pico de gallo rate high among her bright, modern shop's many creations.
Snappily designed, Zon Baguettes fast-food-style shop straddles East and West with its collection of traditional Vietnamese one-plate meals and American takes on the Vietnamese sandwich. Recommended dishes: grilled Mexican beef sandwich; grilled pork sandwich; special combo sandwich with assorted cold cuts; Denver omelet sandwich.
Also joining the neighborhood is Pholicious, a spic-and-span pho shop with lettuce-green walls on a side street a few blocks from Brookhurst. The kitchen arranges its pho garnishes like a little bouquet rather than the usual unruly heap of vegetation. It turns out crowd-pleasing shrimp pho and chicken pho as well as the familiar beef variety. Co-owners Danny Buu and Jonathan Bao Huynh say their best advertising results have come from MySpace.
"We are the crossover generation," says Hunyh, 31, who arrived here at age 3. "We take ideas from both cultures." Their venture may be a practice run for a franchise. Look for Pholicious No. 2 in Irvine later this year.