By Linda Burum, Special to the Los Angeles Times.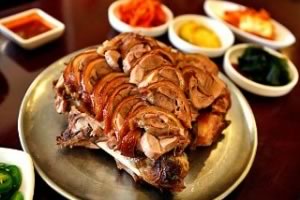 At dusk, electronic billboards light up all along Vermont and Western avenues. Their glowing images flick and spin, pumping life into Korean-language signs advertising everything from karaoke bars to old-country herbal cures. The aroma of garlic wafts out of countless restaurants over the largest Korean enclave outside Asia.

Even in the late '70s, when Korean business had barely put down roots here, the 5 square miles between Pico Boulevard and Melrose Avenue from Hoover Street to Crenshaw Boulevard were home to more eating places than Chinatown. In the last 10 years, growth has escalated at a turbocharged pace. Daniel Oh, president of the National Korean Restaurant Coalition, points out that in 1992, Koreatown had 160 restaurants; now it has about 1,000. The streets are ablaze with restaurant "grand opening" banners. Dinner-time traffic can be a madhouse, with mini-mall parking lot attendants heroically juggling twice as many cars as the lots can hold.
The Ambassador district along Wilshire Boulevard is Koreatown's newest status address. Here the ghostly closed Perino's and shuttered Cocoanut Grove nightclub recall the glamour era of wining and dining Hollywood royalty. The office towers that emptied in the '80s, when many Fortune 500 companies moved away, now hold Korean banks and professional offices. At the corner of Wilshire Boulevard and Alexandria Avenue, the Brown Derby Plaza, built on the site of the illustrious restaurant where the Cobb salad was born, is filled with Korean-owned pubs, discos and eating spots.
Up the street at the Wilshire B.B.Q. House, businesspeople are still finalizing deals at 2 a.m. In time-honored tradition they converse over the vodka-like soju—-and spicy dried octopus or seafood pancakes.
*Most restaurants specialize in a dish or cooking style they've honed to perfection. Usually these are old-country foods Koreans consider too weird or too spicy for others (they may be right). When you want a real taste of Korea, these places must be on your list.
Yongsusan hired the Julia Child of Kaesong-style cuisine, Sang Ock Choi, tas a menu consultant. The restaurant's lavish apricot silk-walled dining room and discreet private rooms are the perfect setting for the multi-course chong shik-style meals priced from $19 to $50.
Kaesong's former position as a North Korean trading city drew well-to-do merchants for whom the cooking was refined. These refinements are evident in Yongsusan's food: meticulously cut vegetables, naeng myun noodles as fine as angel hair and presentations that look like classic watercolors.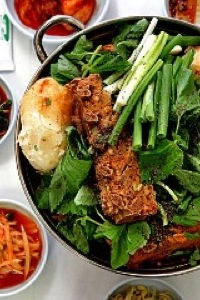 Barring a flight to Korea, few places can give you the feeling you've left the country better than the Secret Garden at Buffet Land. The exterior of this huge restaurant looks vaguely like a hotel. Pass through the reception area and a spacious room with a vast Korean and semi-Western buffet and you come to the garden. There, as is the custom in many Korean parks, where vendors sell all sorts of anju from carts, you see men grilling on charcoal hibachi-style grills, people cutting fish or serving beer or kimchi. In one tented area, people are huddled around tabletop grills. The menu is in Korean, and it's worth the adventure to ask for a translation.
Korean Charcuterie: Jeokbal
http://articles.latimes.com/2011/apr/21/food/la-fo-find-jokbal-20110421
Jun Won Home Cooking and Seafood
http://articles.latimes.com/2011/jul/14/food/la-fo-find-jun-won-20110714
On Dal Crab House
http://articles.latimes.com/2007/sep/26/food/fo-find26
Koreatown's Odaesan shows what happens to sashimi outside of Japan — and it does it in a luxurious setting.
http://articles.latimes.com/2004/apr/14/food/fo-counter14
Seafood in Koreatown
http://articles.latimes.com/1988-09-18/entertainment/ca-3051_1_korean-style
Kae Son Kimchi Boutique
http://www.ramencity.com/eshop/kimchiway.htm
Soon Dae: Korea's Blood sausage
http://articles.latimes.com/2010/sep/09/food/la-fo-find-20100909
Korean Pork with Plenty of Sizzle
http://articles.latimes.com/2006/apr/26/food/fo-find26
Pork spine and potato stew
http://articles.latimes.com/2010/nov/18/food/la-fo-find-20101118
The King of Korean Dumplings Reigns Here
As we tackled a plate of calzone-size pastas stuffed with beef and kimchi, my Korean friend gave me some background. "Wang mandu translates as king dumplings," she said.
These gigantic dumplings are the hallmark of the North Korean province Hwanghae. The best of them — like the ones served at Hwang Hae Do restaurant in Artesia — enclose a filling of vegetables and braised beef in taut, translucent skins.
http://articles.latimes.com/2004/sep/29/food/fo-counter29
Chosun Galbee Barbecue
http://articles.latimes.com/2002/jan/17/news/wk-counter17
Koreatown's Glitziest Supermarkets
http://eat-la.com/discoveries/koreatown-galleria-market/
http://eat-la.com/discoveries/koreatown-plaza-market/
Korean Pubs
http://articles.latimes.com/1988-09-18/entertainment/ca-3186_1_korean-food
Koreatown's Bubbling Cauldrons
http://goo.gl/PxMCx1
From the Deep, an Unexpected Delight—Baby Octopus
http://articles.latimes.com/2005/nov/30/food/fo-counter30
Flaming Clam Grill (Closed)
http://articles.latimes.com/2009/nov/18/food/fo-find18