By Linda Burum, Special to the Los Angeles Times.
In Hollywood, new owners at a Thai Town institution have amped up a southern Thai menu complete with some of the wildest curries and most intriguing salads (including the khao yam) you'll ever encounter. A multi-regional Thai restaurant with an extensive menu of northern, southern and central Thai dishes has opened in the heart of the San Fernando Valley. A couple of longtime Orange County Thai favorites known for their Isaan cuisine have remodeled or rebuilt, with plans to expand. And the energy just seems to keep building.
Beyond the familiar citified cuisine of Bangkok and the tropical central plains, rural regional cooking encompasses more assertive tastes and varied textures. Raw shellfish punctuated with sassy tartness. Aromatic herbs with transporting, pungent flavor. Dry-curry meats with searing heat.
But you have to know what to look for. Flip past the mee krob and tom yum kai and look for the special southern Thai menu or northern Thai menu in the back. Or it might be on a well-worn page stashed behind the cash register. Hunt it down. The dishes are apt to be the favorite foods particular to the chef's home village – and the best Thai you've probably had in a long time.
Ask for help: If you show some interest, the staff will be happy to make recommendations.
In the past, although Thai restaurants found it more lucrative to satisfy the American palate with the familiar roster of central-style food – pad Thai, coconut chicken soup – a few would offer at least a couple of dishes from their own region. These places were few and far between, but in the '80s and '90s diners who had traveled in Thailand were thrilled to drive to Panorama City to Satang Thai to eat pungent kaeng leuang, a catfish curry filled with fermented bamboo shoots. In Hollywood, Chao Neua and V.P. Cafe offered northern specialties. As many Thai food buffs know, restaurants serving northeastern-style Isaan food were somewhat more abundant. But in the '90s, they started disappearing. After a while only a few northeastern-style restaurants remained to represent the powerful flavors of rural Thailand.
Happily, several new restaurants have taken their place.
One such spot is Lum-Ka-Naad in Reseda. Alex Sonbalee and his wife, Ooi, opened their multiregional Thai restaurant last spring. They're cooking the food of their own regions – he's from Chiang Mai in the north and she's from Krabi in the south. Knowing that the L.A.area has the largest Thai population outside Thailand, they believed their cooking would woo Thais who miss dishes from home. Because few Thai restaurants serve regional cuisine in the Valley, they saw a niche.
"We also believed we could succeed because here in L.A. there are [non-Thai] people who understand our food," Alex Sonbalee says. Apparently, the Sonbalees are on to a trend. The upswing has coincided with increased investment from Thailand after the collapse of the Thai currency in 1997, Alex says. More Thai money in town means more demand for the highest level of Thai cooking, and restaurateurs are responding.
Each area of Thailand has a distinct flavor palette. You'll find the northern Thai mainstay of pork in rich spiced curries (some made without the coconut milk prevalent in central Thai curries) and in sausages spiked with ground lime peel and garlic, always served with "sticky" rice. The rich pork rounds the spicy flavors with its slightly sweet edge. In the northeast, colloquially known as Isaan, the cuisine is dictated by the region's harsh, dusty landscape with no access to the sea. Dried chiles, herbs plucked from the rice fields, lime and fermented fish lend their flavor to wild boar or raw freshwater shrimp. In the same region, many Thai-Lao dishes are similar but not as aggressively seasoned. Southern flavors are the boldest and spiciest, the herbs more pungent and the taste of fermented ingredients more apparent.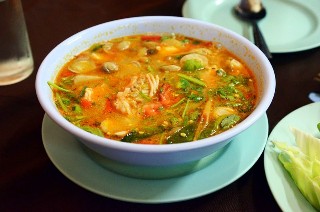 The south
Thais say southern food is the ultimate of phet (spiciness), as intense as the fast-paced, clipped dialect of the area. Sandwiched between two oceans, the southern region is a skinny isthmus with access to an amazing array of seafood and freshwater fish. Both the land and the food bridge Thailand and Malaysia.
Curries are packed with Malay-influenced spices, fermented fish seasoning and ocher-yellow fresh turmeric. A signature tartness comes from plenty of lime, palm vinegar, tamarind and other sour fruits.
"Thai food at a lot of restaurants is too sweet," says Srintip "Jazz" Singsanong, who with her brother and chef Suthiporn "Tui" Sungkamee took over Thai Town stalwart Jitlada last year. The homey, randomly decorated Hollywood restaurant tucked into a Sunset Boulevard strip mall had languished for several years, but under new ownership it has become a surprising source for fantastic southern Thai food. Though the dishes can certainly be searingly hot, most are manageable (if you ask for medium spicy), and incredibly nuanced.
When chef Sungkamee took over the kitchen he added his own southern-style dishes prepared with family recipes, but these were written in Thai script. Enter a visiting Chicago food blogger who translated and annotated the Thai menu, revealing these southern specialties – like the khao yam (rice salad) – to non-Thai speakers. Most Angelenos had never braved the heat of kaeng kop som thawn, the curry of frog legs and slices of plum-like pickled santol fruit only slightly mitigated with a little coconut milk. Catfish curry with wild tea leaves the color of cavalo nero seems refined next to the rustic kaeng paa plaa duk luuk taw, catfish curry sprinkled with sator tree "beans," a delicacy (and perhaps an acquired taste) synonymous with southern food. There's little pork on the southern-dish menu, in deference to the south's large Muslim population.
Jitlada offers not one but two crab salads: yam priaw dawng, or pickled crab salad, has the sweet-sour flavors of lemon grass, loads of garlic and a showering of mint, and the puu pen phla, a spicy blue crab salad – chunks of salt-cured uncooked crab piled with julienned green papaya, lemon grass, mint, slivers of red onion and chiles. You suck the raw meat from its shell doused with all the juices from the fruit, vegetables and herbs. There might be small shell pieces scattered throughout, but who cares – it's addictively delicious.
The north
Among the most comprehensive northern menus are those at Top Thai in Reseda and Spicy BBQ Restaurant by Nong & Family, a tidy, minuscule place in Hollywood where the tables are covered with Thai textiles and what looks like elaborate holiday tinsel crosses the ceiling. The restaurants are run by two Thai sisters, Noi and Nong Sriyana, who hail from the northern Thai town of Fang.
The north, isolated geographically until the 1920s (one could get there only by elephant or complicated boat trips), has remained as distinct from central Thailand as Kauai is from Manhattan. And so has its cooking. The area has a grand mixture of influences from its many hill tribes, from the ancient Chinese settlers and from the neighboring Lao and Burmese. You see the influence in Spicy BBQ's kaeng hangleh, a Burmese-influenced curry with pork chunks, sliced ginger, whole cloves of garlic and peanuts and the famous khao sawy curried noodles.
At Top Thai and Spicy BBQ you'll find classic versions of naam phrik num, a dip of mashed charcoal-roasted serrano chiles and naam phrik awng, a dip reminiscent of chile con carne. Laap tod (translated as a salad), a plate of slider-size marinated pork patties, comes doused with a piquant garlicky dressing. Of course, the north being pork country, there is sai ua, a fat sausage that surprises with its tart jolt of kaffir lime peel and lemon grass livening the rich ground meat and the platter of vegetables it's served with. Be sure to order the glutinous "sticky" rice, ubiquitous in the north, that you roll into bite-size balls and use, with your fingers, to pick up your food. You pick up some spicy pork or green papaya salad with the slightly sweet, soft, chewy rice and eat it all together.
The north's reputation for fairly mild food isn't evident at Spicy BBQ Restaurant, where the heat of country-style vegetable curry, kaeng khae, or the outrageously good northern-style pork salad with herbs and lemon grass, laap neua, could compete with Tabasco sauce. Some might want to order these boldly seasoned dishes "phet noi" – lightly spiced.
At Lum-Ka-Naad in Reseda, Alex Sonbalee turns out northern-style laap plaa duk, crispy catfish salad, and ground pork salad laap kua. The fresh ka (galangal) in these dishes is a northern trademark. His tom kha nun, a minced jackfruit salad with ground lime peel, comes with a beautiful display of lightly cooked vegetables for dipping. Meanwhile, his wife Ooi is cooking her favorite southern dishes – her kaeng tai plaa, a soupy curry of fish and sliced fermented bamboo shoots appeals to those who love their food ultra hot and sour.
Isaan-The South East
Isaan cuisine's torridly spiced salads of raw beef, raw freshwater shrimp ("naked shrimp") and grilled offal are often dressed only with what's at hand: pungent herbs, dried (not fresh) chiles, toasted ground rice and lime. Yet it all comes together marvelously.
At the new, stylishly appointed restaurant Khun Lek Kitchen in Bellflower, the Isaan dishes – written by hand on a Thai-only special menu – burst with wild spicy flavors: There's koi soy, a salad of raw marinated beef that may also be had with raw shrimp. There's barbecued liver salad, spicy beef tendon soup and lively kanom jiin noodles in curry. There also are Isaan dishes scattered throughout the regular menu: bamboo shoot salad and neua naam tok, sliced beef salad with lime juice and dried chiles.
Once extremely isolated, Isaan's impoverished farmers often sought jobs in Bangkok, and some opened street stalls selling regional dishes. The food eventually became trendy in Bangkok as Thai yuppies discovered it and began opening stylish Isaan places in the late 1980s and eventually in L.A. The Isaan practice of snacking throughout a performance of traditional music and dancing has evolved into the urban custom of accompanying any sort of entertainment with Isaan faves, which inevitably are offered at Thai nightspots.
A few blocks away from Khun Lek Kitchen is the real-deal Can Coon, named for the traditional Isaan reed instrument. At this tiny (cash only) place, most of the Isaan dishes on the menu are listed under specialties or circled. Affable owner Vinischai Satuporn guides your choices ("too many hot dishes," he might exclaim). Plaa dad deo, butterflied trout over slivered green apple with lime and chile makes a great foil for the burning kaeng som seafood curry or scalding laap kung, chopped shrimp salad.
You could hear a collective moan from fans of northeastern Thai food when two beloved Isaan restaurants, Thai Nakorn and Renu Nakorn (not related) in Orange County, recently closed. But it wasn't long after its devastating fire before a new Thai Nakorn settled into a large remodeled space in Stanton. (Another Thai Nakorn also is set to reopen in the Garden Grove location.)
Its sauté  of wild boar with herbs, a dish that reflects the region's love for game, has all the hot-sweet-meaty-herbal flavors that made us fall in love with Thai food. There is also barbecue tongue, raw shrimp cured in lime juice and the now-familiar host of tear-inducing grilled salads. The new restaurant even has a dedicated "pastry" chef preparing Thai desserts daily.
Renu Nakorn, rivaling Thai Nakorn as the most popular Isaan-style restaurant in Southern California, was the place that made "crying tiger" (seua rong hai) notorious. It's sliced rare grilled beef served with sticky rice and an extremely hot dipping sauce. Last year the mall it inhabits decided to completely rebuild, but fans are thrilled that the restaurant will open in the same location, "projected for December," says co-owner Umpa Sripetwannadee. Look for tub waan grilled liver salad with bamboo shoots and spicy hor mok, a pudding-like blend of highly spiced thick coconut milk and chicken steamed in banana leaves.
Thai-Lao
A handful of restaurants in Orange County serve Thai-Lao cuisine. It's the food of the ethnic Lao people who have always lived in the Isaan region. In fact, more Lao live in Thailand's Isaan region than in Laos itself, so it's not surprising that Thai-Lao cooking incorporates dishes from the entire area close to the border.
Many dishes are nearly identical to Isaan ones though not as spicy-hot. You'll see this at tiny Vientiane in Garden Grove, a 2-year-old shoe box of a place named for Laos' capital city.
On the photocopied menu (there's also a menu with color photos) you'll find Lao sausage-laced fried rice that's peppered with nuggets of pan-crisped rice chunks. The  sautéed clams with chiles are simply wonderful, as are the fine rice noodles in yellow curry that you sprinkle with herbs, salad greens and squirts of lime. Catfish chunks come infused with kaffir lime and steamed in a banana leaf.
Nuah savanh, that's as thin as paper; and delicious house-made lemon grass-spiked sausage, sai kok Lao. A number of terrific Lao-style noodle dishes include explosively spicy tum mee, a salad swirled with morning glory leaves, green Thai eggplant and tomatoes. Khao phak moo kob, "homemade" thick rice noodles in broth, are dotted with crunchy fried fresh bacon and topped with fried minced garlic.
Back at Lum-Ka-Naad in Reseda, the kitchen seems to be on the forefront of what's happening in Thai cuisine. Not only can you order dishes from the country's northern, southern and central regions, but you can start your meal with the house specialty: the sausage plate with a different version from each of Thailand's four culinary regions. It's likely a repast to be found only in L.A.