By Linda Burum,  Los Angeles Magazine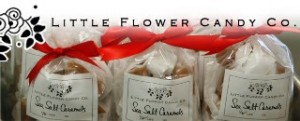 Even before you taste Christine Moore's caramels, their irregular shapes and opaque waxed paper wrappers can leave you feeling sentimental. The simplicity of the dainty, hand-formed candies conjures images of soda fountains and old Mickey Rooney films. But it's more than mere nostalgia that has people making ritual Sunday visits to Moore's Little Flower Candy Company stand at the Santa Monica Farmer's Market. For anyone who's tasted her mahogany-colored butter-and-cream mini logs, there's no substitute.
Little Flower's piéce de resistance may be the salt caramel that inspired Moore to create the tiny company. Its perfect-pitch sweetness—true of all Moore's candy— reveals fine ingredients in delicate harmony. The most basic caramel is perfumed with a whiff of vanilla. The pecan version is dense with nuts and the chocolate variety tastes like a Tootsie Roll for Grown-ups.
Moore used to be a pastry chef—at Les Deux Cafés and Nicola, among other restaurants—but she left the hectic lifestyle behind to start a family. That's when making candy became her creative outlet. One morning a batch of pralines didn't set, but a sampling of the amorphous mass reminded her of the Brittany salt caramel she'd loved so much when she was working in Paris as an assistant in the esteemed patisserie Gerard Mulot.
Moore became obsessed with reproducing that taste. She began experimenting with ingredients in various ratios and even acquired pearl-gray French sea salt. After countless attempts, she finally produced a bronze, slightly chewy substance that melded browned butter, toasty sugar, an ideal balance of salt and sweet. Soon, smitten friends were urging her to sell her creations.
Now Moore has her own shop and sells to several dozen gourmet shops. To maintain taste and freshness, though, Moore still makes her candy in small batches and limits the size of clients' orders. "Perfecting candy is all about concentration and timing," she says. Her candies require constant stirring for three to 4 hours. A minute too long on the stove will make the texture and the flavor undesirably bitter.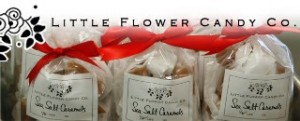 Despite the demands of a growing wholesale business—one that was supposed to free her from the arduous schedule of a pastry chef—she rarely misses a Sunday at her market stand, where she also sells huge homemade marshmallows and, around holiday time, chunks of honeycomb. Moore says much of her older clientele grew up with fresh homemade candies, so when they try hers, "They get it."
She remembers the day when an octogenarian from Norwalk encouraged her with, "My dear, I certainly wish you success." That wish, of course, has come true.