By Linda Burum, Special to the Los Angeles Times.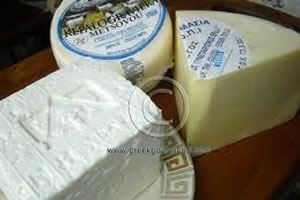 "Greeks love to talk about food," says Peter Georgatsos from behind the deli case at his market Athens West. "Food importing is our family's business, so when my Greek band played weddings and festivals, I'd always take notice when the conversation turned to food shopping." Georgatsos' eavesdropping has recently come in handy.  Six months ago, he and his partner, Oristis Hillas, acquired the 20-year-old Athens West, Orange County's only Greek market and delicatessen. The young men have improved both the look of the place and the inventory. Doubling the size of this once simple storefront, they've turned it into an airy, spacious room with shimmery sea-blue tile flooring, pristine white walls and high-tech fixtures.
Most interesting is the store's small but growing collection of boutique food items from Greek cottage industries-tiny marinated wild onions, for instance, or walnut-stuffed eggplants. Obtained through Fotis & Son, the Georgatsos family's importing company, founded by Peter's father, Fotis Georgatsos, many of the specialties are sought out by Fotis' brother, Antonios, who lives in Greece.
To stimulate interest, the family distributed Regional Greek cheese samples at Greek festivals and church events and to Greek organizations.
Raising cattle is difficult in the rugged, mountainous, often arid terrain of Greece, and sheep's milk is the dominant ingredient for cheese-making. For centuries the isolated, self-sufficient Greek towns and villages developed their own variations on the traditional cheeses.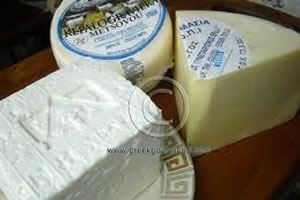 At Athens West you find a wide range of imported sheep's milk cheese and even regional styles of the same cheese. I compared them in a sort of horizontal tasting and found the flavor of the same cheese can vary widely from region to region.
* Kefalotiri: The best Kefalotiri comes from Ioanina and Dodoni in central Greece. When well aged, this dense cheese is wonderful for grating onto pastas. I tasted a domestic version purchased elsewhere; it was salty and totally lacked the balance of slightly tangy and rich nut-like flavors of the import. Many Greeks use Kefalotiri for the flamed or fried cheese dish saganaki, although others prefer the harder Graviera.
* Kefalograviera: From the same region as Kefalotiri comes the best version of this richly flavored pale-yellow cheese used almost exclusively as a table cheese.
* Graviera: The finest sheep's milk Graviera comes from the towns of Khania (the Greek spelling looks like Xania) and Iraklion in Crete, where in pre-refrigeration times it was aged in the island's cool caves. The best Graviera is often difficult to obtain, so the shop may have it at irregular intervals. But many Greeks cherish this hard cheese, with a flavor close to aged Jarlsberg, for saganaki, the fried cheese that is often flamed at the table in Greek restaurants. Unlike other cheeses, which need to be coated with flour to prevent them turning into a puddle, Graviera holds its shape when heated. It also makes a superb grating cheese.
* Mizithra: One of Greece's hardest grating cheeses, Mizithra is bone-white with a slightly chewy texture from the high concentration of whey from which it is made. The aged cheese is always grated and used for moussaka, pastitsio and other noodle dishes.
* Manouri: Another cheese from the Dodoni area, Manouri is a delicious fresh cheese, fairly soft and not for the faint of palate. Its high percentage of whey results in a strong sheep's milk flavor. Sofi Kostantinides, owner of Sofi Estiatorion restaurant on West 3rd Street in Los Angeles, says it is best sliced and eaten on good crusty bread, drizzled with extra-virgin olive oil and topped with a slice of tomato and a sprinkling of rigani (Greek oregano).
* Feta: The familiar tangy, young cheese is cured in a brine of whey and salt. If you plan to keep it more than a day or two, ask for some of the brine to store it in. The shop's seven fetas include the commonly seen French, Bulgarian and domestic versions as well as four from different regions of Greece. With the help of co-owner Hillas, I rated the creaminess, saltiness, tang and texture of each.
-The Barrel Feta from Northern Greece and the well-known cheese-making Dodoni area in Central Greece (due east of Corfu and south of Yugoslavia) had the most complex flavor. Its peppery bite is shaded with the underlying taste of an oak wood barrel in which it is cured and shipped. Barrel Feta has a medium tang, is not too salty and is among the creamiest.
-The Voskos Feta comes from the area around the central Greek town of Larissa, east of Dodoni. Of the imported fetas, this had the lightest flavor with the least taste of sheep's milk, and also the least creaminess. Its effect is rather zingy, almost lemony.
-The Parnassou-style, from south central Greece near Delphi and the famed Mt. Parnassos, has a distinct sheep's milk flavor, is mellow and not too salty.
-Dodnis Feta, from Ionia, Greece, wasn't available when I was in the store, but co-owner Georgatsos describes its flavor as tangy, like Bulgarian Feta, but not as salty and not as creamy.
-Bulgarian Feta had a creamy texture and the boldest, saltiest, tangiest flavor, which some describe as reminiscent of a barnyard, meaning the sheep's milk flavor is pronounced.
-French Feta was dainty by comparison, less salty, less tangy and less creamy.
-Domestic Feta, a cow's milk cheese, was the mildest of all and, for some palates, the most pleasant.
* Kasseri: This "cooked" sheep's milk cheese is a cousin of Italian Provolone. The flavorful, slightly tangy cheese is preferred by Greeks on pizza and as a table cheese. Like feta, each regional version has its own character.
-The Parnassou-style, from the central Greek cheese-making area near Larissa, had the most complex taste with a nice balance of tart, salty and nutty flavors.
-The Mytilini-style from the island of Lesbos, close to Turkey, was blander yet quite salty.
-Thesgal brand was the most mellow with just a slight tang.
2663 W. Lincoln Ave., Anaheim, (714) 826-2560.