By Linda Burum, Special to the Los Angeles Times.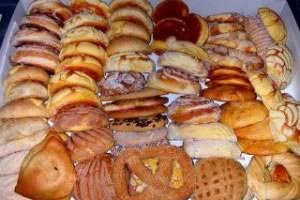 The sound of dough mixers that has echoed off the lofty ceiling of El Gallo's workroom since 5 a.m. is finally quiet. Now, at 10 a.m., there are only rhythmic thumps and clacking rolls as head bakery man Nicholas Sosa and his crew hand-shape the nearly 4,500 pieces of pan dulce that the bakery will sell that day.
Working at a long, high table, the bakers produce the whole gamut of traditional Mexican sweet breads. Some have cartoon-like forms and nicknames: Conchas (clam shells), payasos (clowns), cuernos (horns), bigotes (mustaches) and tomates (tomatoes) are among more than 50 varieties they turn out daily.
Each pan dulce is a complex little work of art. To make tortugas (turtles), for instance, a baker must roll out an oval of cinnamon dough, then roll a `pasta' made from sugar and shortening on top of that. Next he stamps on a turtle-shell design before draping the dough over the turtle's oval body, made from pan de huevo, an egg dough. To create elotes, the cinnamon-dough buns that resemble ears of corn, El Gallo's bakers, who have all honed their skills in Mexican panaderias, must etch in the rows of kernels with deft knife stroke.

Pan dulce is most familiar on the breakfast table, where the story-book shapes and wide variety delight children and adults who devour it with steaming cups of coffee or hot chocolate. People also eat pan dulce for supper when their main meal-from 2 to 4 p.m.-precludes having anything too heavy in the evening. Unfortunately, sub-standard pan dulce has marred its reputation. But El Gallo's subtly sweet breads, flavored with crushed cinnamon and generous quantities of fresh eggs, are likely to change many opinions.
What has kept El Gallo's customers coming for three or four generations? The exceptional quality of its goods, of course. But also the fact that it bakes many difficult-to-find items that require special time-consuming techniques.
Each bread has its own taste and character because the components can be varied almost endlessly," says El Gallo's owner, Jesus Huerta.
Early in the day, when the bakers have loaded tray after tray of pan dulce onto the sparkling, mirror-lined shelves behind the bakery counters, the whole place smells of freshly brewed coffee and mingling aromas of yeast and cinnamon. Children, who clatter into the bakery wide-eyed behind the grownups, are offered special tastes from a tray piled high with samples. Their parents-many come in twice a day-can indulge in El Gallo's wonderfully rich Gavina coffee while they make their selection from the orderly rows of pan dulce.
El Gallo was opened in 1949 by Huerta's mother, Magdalena Martinez-Huerta, and her brother Lauro. Their father had owned bakeries in Mexico since the early 1920s. He was also an entrepreneur, with a string of ice cream shops and cantinas in Guadalajara.
Martinez-Huerta would eventually follow in her father's entrepreneurial footsteps. But for her first American business, she faced the challenge of creating authentic-tasting products using American ingredients. There was much to be changed: "The flour is different, so is the water. Even the different weather can change everything; yeast dough is very temperamental," Huerta explains.
4546 Brooklyn Ave., East Los Angeles, (213) 263-5528 or (800) 65-Gallo.
Illustration
PHOTO: COLOR, El Gallo Bakery: pan dulce central.; PHOTO: A customer looks over the dizzying array of Mexican pastries. / RICK MEYER / Los Angeles Times; PHOTO: Mario Batres loads the baking ovens. Everything has to be fresh.; PHOTO: Panes dulces are among the most popular baked goods at El Gallo.; PHOTO: Headbakery man Nicholas Sosa starts shaping these roles at 5 a.m.; PHOTO: Consuelo Estrella stocks rolls.
(Copyright, The Times Mirror Company; Los Angeles Times 1993all Rights reserved)