In Reseda, amazing fresh tofu, seasoned with lemon grass or whipped into a custard.
By Linda Burum, Special to the Los Angeles Times.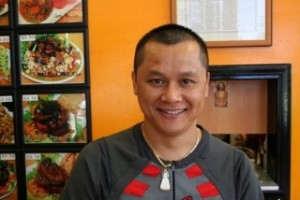 In a  dining area barely bigger than a lunch truck, Kevin Tran presides over the counter and dining room of Vinh Loi Tofu, a Vietnamese vegetarian cafe and tofu factory in Reseda. He banters on a first-name basis with regulars who trickle in all day: mothers with children picking up takeout, a burly guy whose black T-shirt sports the moniker "Harley House Calls," a woman wearing a hijab who takes a few bottles of the factory's freshly made soymilk from the large refrigerator case by the doorway.
If your timing is right, you might hear the low whir of a soybean-grinding machine emanating from the kitchen, which is also a compact atelier where Tran makes fresh tofu, soymilk and creamy tofu custard daily.

Like cookies just out of the oven, just-picked fruit or meat still sizzling from a grill, freshly made tofu is one of those foods whose flavor nuances are perfectly aligned for only a few hours; in this case, when the wobbly mass is just out of the kettle and still cooling. The slight sweetness and ethereal bean essence vanish as quickly as the aroma of fresh bread. But fresh tofu made on the premises at Vinh Loi Tofu, a Vietnamese vegetarian café and tofu factory in Reseda, is just one selling point here. The kitchen turns out about 20 tofu-based Vietnamese dishes that I'd be happy to drive across town to eat (though I'm not a vegetarian).
The utilitarian décor, basically shelves holding Asian vegetarian groceries, is clearly a non-issue at this quirky place, which has the feel of an insiders club. At the three closely packed tables, people seem to bond over sharing the details of their favorite tofu dishes, discussing the ingredients and gesturing to the wall displaying colored photos that illustrate them. And Vietnamese-born Tran is always ready to answer questions or to customize a dipping sauce for one of the various spring rolls.
Inspired by the many vegans and vegetarians they knew, Tran and his wife started the business about three years ago because they loved fresh tofu. "We were tired of driving to Little Saigon or San Gabriel to get it," Tran said.
Their dream enterprise nearly vanished when the consultant they hired to teach them how to make tofu disappeared before completing their training. But with helpful advice from ingredient suppliers, Tran set out to perfect his tofu, often coming to work at 4 a.m. to experiment. Great tofu, it turns out, was only one result of his marathon kitchen sessions.
Stuck in the shop virtually day and night, he ate tofu, tofu and more tofu. He dreamed up interesting ways to prepare it and made up takeout portions of successful dishes to sell along with the tofu. It soon became clear that the prepared dishes were an excellent draw, so Tran continued to expand his repertoire, eventually adding a few tables to accommodate customers who came in at mealtime.
Tran's first success, a vegetarian version of the classic central Vietnamese soup bun bo Hue,with its slightly chewy rice noodles and the bright sting of chile broth, is still one of his favorites. He became just as fanatical about refining it as he had been in learning to perfect his tofu, preparing, eating and evaluating it daily for several months before it was codified into a recipe.
He and his employees were just as rigorous in developing all of Vinh Loi's menu items, which may be why, unlike foods at many small operations, the dishes here are nearly always consistent.
Take the curry. Its balance of heat, sweet, tart and mellow is unfailingly perfect. The kitchen turns out several regional noodle soups (but no pho). Tran doesn't use just one master broth; each soup has its own flavor. The hu tieu, a south Vietnamese seafood specialty, does taste like seafood. And the deep meatiness of bun mang vit precisely mimics a duck broth. One of the most agreeable dishes, bun bi thit nuong, a cool refreshing salad-like assembly, gets substance and texture from compact tofu cubes and shredded gluten. The dressing, a shimmery clear coconut sauce, sparked with garlic and a smidgen of flaked chile, resembles traditional nuoc cham sauce. Normally I'd miss the requisite fish sauce in such a dressing but Tran's amalgam is a marvel.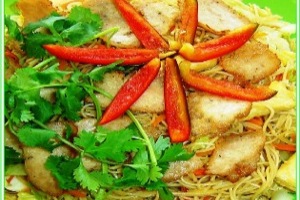 The same mixture seasons banh uot, a plate of fresh rice-noodle sheets that are slightly chewy, as sheer as organdy, and topped with vegetables and crispy soy "fish sticks."
Available for purchase from the refrigerated case is one of Vinh Loi's more unique creations — tofu embedded with bits of lemon grass and chile or with shiitake mushrooms blended in before it's formed into blocks. The kitchen fries small triangles of this tofu, turning them into marshmallow-soft pillows that are great alone or with one of Tran's dipping sauces.
For dessert: the Vietnamese comfort food dau hu duong, a silky warm custard of barely set soymilk drizzled with a zingy ginger syrup and optional swirls of sweetened coconut milk; it's as hard to stop eating as an ice cream sundae. A mint-green colored version is delicately flavored with the tropical leaf pandan.
You may hit it lucky if Tran is in one of his experimental phases, obsessed with perfecting a new tofu item. But as it stands, sampling the 20-odd dishes he presently serves — not to mention the ultra-fresh main ingredient — takes you on a revealing journey into tofu's seemingly infinite potential.
Best dishes: Cari chay (curry with rice noodles); bun bo Hue (rice noodles in spicy beef-flavored broth with soy chicken and soy beef); bun bi thit nuong (noodle salad with coconut sauce); nem nuong cuon (spring roll); dau hu duong la dua va nuoc cot dua (tofu custard with pandan leaf, coconut milk and ginger syrup).
18625 Sherman Way, No. 101, Reseda, (818) 996-9779